JN296LE • Summer Mouse in House
© 2017, Just Nan, Inc.All Rights Reserved
Materials included: Color Cover, 12-page Stitch Guide,
24" of Ribbon, Pink Felt, Chipboard Base, Beads, 2 Swarovski Crystal Beads, Wired String Tail, Signature Button Mouse Base, White Flower, Gold Strawberry Bead, and a little Gingham Heart to decorate a wall. Not included: fusible craft weight interfacing and a straight pin for the strawberry.
Miss Strawberry Mouse is not available separately.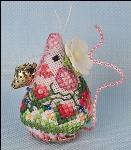 JN296LE • Summer Mouse in a House & Embellishments • Limited Edition
Second in our 2017 Mouse in a House Series
The Summer House is built from
4 lined triangles attached to a square base. Pretty pink ribbons tie the sides together. Vines dotted with blueberry beads climb the walls of the house and gardens bloom on all sides.
A trellis of roses surrounds the front door. On one side of the house you will find a fenced lavender garden with butterflies and bluebirds stitched over 1. On the other side, a strawberry patch is humming with bees. In the backyard flowers spill from a very large urn being inspected by two little visitors. Both the wreath over the front door and the large urn are embellished with a tiny Swarovski dewdrop bead. Inside, pink felt walls surround a fancy floral rug. Beneath the rug, another little mouse scurries around the base. The felt walls can hold needles and pins or tiny embellishments.
Summer House is stitched with DMC on a single piece of 32 CT Weeks Platinum Linen.
Cut size is 14" X 10 ¼" which includes 2" margins. Finished house measures approx.
2 ¾' X 2 ¾".
Miss Strawberry Mouse lives in this house. She is wearing a strawberry frock with a white flower hat. She holds a gold strawberry. Her curly tail is pink wired string. She fits inside the house.
Stitch her on 32 CT Weeks Blush Linen with DMC.
Design area is 1 ¾" X 3 ¼".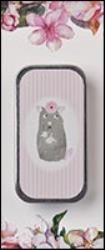 MST1 • Miss Lady Mouse Mini Slide
MST1 • Little Lady Mouse Mini Slide Available separately
Miss Strawberry Mouse needs extra storage for special items, so we are giving her a mini version of our Needle Slide. The same magnet is inside and the lid slides open and snaps closed. The little tin (1" x 2") fits inside the house along with Strawberry Mouse. We hear that Miss Pansy Mouse who lives in the Spring House next door thinks she needs one of these also!