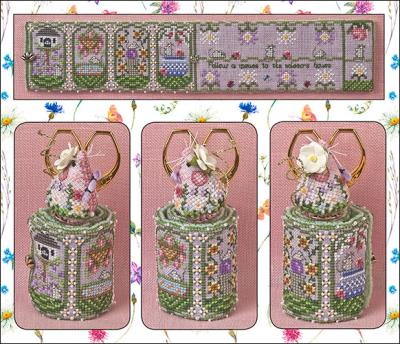 JN302LE • Summer Mouse Scissor Roll
© 2018, Just Nan, Inc.All Rights Reserved
Materials included:
Color Cover, 8-page Stitch Guide, Overdyed sage green wool, Wired string tail, Ant. brass button base, Flower hat, Beads & pearls, Snap, Gold lotus bead
Not included:
Fusible craft weight interfacing, stuffing for mouse,
3½" or 4" scissors

Daisy Mouse
Linen for Mouse:
Daisy Mouse is stitched on Weeks 32 CT Blush Linen. She wears a dress adorned with daisies and other summer flowers, her hat is a white daisy-like flower, her tail is gold wired string and she is holding a tiny skein of floss.

Design area Mouse: 27H X 51 W • Cut Size: 7" X 7"
Daisy Mouse

Not available separately
B5200, 150, 164, 208, 209, 210, 310, 420, 422,
645, 647, 704, 792, 793, 794, 801, 827, 3072, 3345, 3346,
3347, 3687, 3688, 3689, 3853, 3854, 3855, 3862
For your summer stitching pleasure, we are introducing a new series called Mouse on a Roll (MOAR). We are offering the first one in 2018, then continuing the series in 2019. All scissor rolls in the series will be the same size, and each will feature a guardian mouse. The rolls are designed to hold 3½" or 4" scissors of your choice.
Each of the mouse garden scenes on this first roll features a mouse and a moment in the summer garden. Look for a bird house (with bird) surrounded by lavender flowers; a hanging basket of flowers over a koi pond; sunflowers around a shiny gazing ball and a large blue pot under a rose trellis. Tiny daisy chains separate the scenes which are grounded with bargello grass patterns. The scenes are embellished with white pearl beads and pale lavender pearls, with a gold lotus bead marking the closure. Inside, 4 little helper mice scurry along a garden path to the scissors house which is the padded pocket for the scissors. The verse: "Follow a mouse to the scissors house."
Linen for Roll:
Stitch the roll as one long piece on Weeks 32 CT Lilac Linen, form a scissor pocket with the overdyed wool backing, sew on a snap and roll it up! Four mouse garden scenes will show on the outside, the path to the scissors and verse will be inside and your scissors will stand at attention in the middle. Place Daisy Mouse on top of the roll to guard the scissors..

Design area Roll:
35H X 168W
Cut Size 6" H X 14½" W
Finished roll measures approximaely 2" high.
Complete finishing instructions for the roll and the mouse (including that mini floss skein) are in the Stitch Guide.
PS: Scissors not included