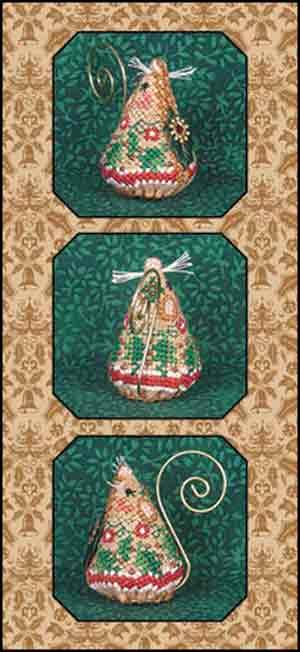 © 2021, Just Nan, Inc., All Rights Reserved
JNHGBM
Holly Go Brightly Mouse
2021 Limited Edition Ornament
Holly Go Brightly is our 10th Gingerbread Mouse! She wears a festive dress adorned with holly leaves, metallic red berry beads, gold garland and little red flowers. Greens and berries make up her hat. Holly is holding a fancy satin holly leaf embellished with a gold sequin and red crystal.
Included are metallic red beads, gold tail, our signature button for the base, and the embellished holly.
You will need to provide stuffing and a straight or sequin pin to attach the holly. Complete finishing instructions for the mouse are included.
Holly Go Brightly Mouse is stitched on 32 CT Zweigart Ant. Almond Belfast Linen or 32 CT Picture This Plus Gingerbread Linen with DMC and Kreinik 002 #4 Braid. Design area is 2" X 3 ½".

© 2021, Just Nan, Inc., All Rights Reserved

JN324
Christmas Sparkle Bee
Limited Edition Christmas Ornament
Our 2021 Christmas ornament features a tiny sparkle bee charm nestled in the middle of a Christmas rose surrounded with snowflakes, all stitched with DMC and Kreinik #4 Braid. A Crossed Rice Snowflake marks each of the 4 corners.
The little bee's wings are painted white, then dusted with glitter to make them sparkle on the tree.
Stitched on 32 CT Zweigart Raw Belfast Linen with DMC and Kreinik 221 #4 Braid. Design area is 2 ½" square.
Included with the color card are the bee charm, sparkling red beads, a gold ring for hanging and finishing suggestions. Stitcher will need to provide fabric for the back and stuffing.
FTMST1
Gingerbread Bouquet
Fancy Trim Mini Needle Slide
Our newest Mini Slide is all decked out for the holidays. A gingerbread bouquet wrapped in a paper cone is dusted with glitter and embellished with a tiny gold bauble. Scalloped white satin "icing" wraps around all 4 sides of the tin. A strong magnet inside hold needles or pins. The slide comes mounted on a special gingerbread and holly card. A great gift!
These little works of art are labor intensive, and we have a limited quantity available.