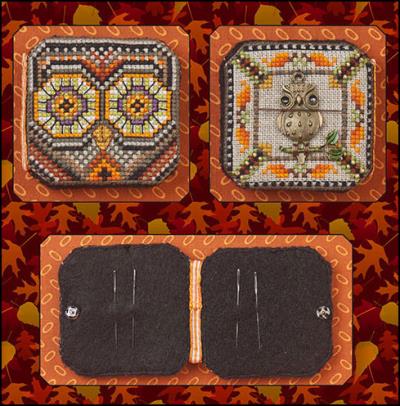 © 2016, Just Nan, Inc .• All Rights Reserved
This is Bob and Anna's exclusive and available


ONLY

from Needles & Niceties.
Quantities are limited, so don't delay. To order,
contact Bob for pricing and shipping information.
You can link to his email address below (include your mailing address) or call him at the shop in California. .
Phone: 909-985-6264
Shop Opens 10:00AM (Pacific Time)

eMail:
Owl of the Needle

Exclusive design only for
Needles & Niceties, Upland, CA

Release Date: October 3, 2016
Presenting Owl of the Needle, the perfect companion to the 2015 Great Scissor Owl. Both cases were commissioned by Bob and Anna of Needles & Niceties of Upland, CA to celebrate 25 shop years. This is a shop exclusive, limited edition design. Together the 2 owl cases make quite a pair!
The needle case shape and autumn color palette mimic the scissor case. There is a big-eyed owl on the front and a hand-painted owl charm on the back, magnetized to hold a needle in his beak!
You stitch the case in 1 piece. The inside of the case is lined with black felt to hold needles. Pretty orange checked ribbon covers the fold.
The Just Nan kit contains color cover; all graphs, templates and instructions for stitching and finishing; green crystal and matte gold beads, owl charm, black felt, ribbon, snap and cardboard backing.
Needles & Niceties will provide the
32 CT Zweigart Raw Belfast Linen, cut to allow 2" margins all around. We photographed the model with silver needles, but Bob and Anna are going for the gold and providing 4 gold needles for your case!
Not included: DMC floss and a small piece of fusible interfacing.